A Paradise-like places: Relaxing atmosphere
I was born and raised in the Philippines, but did not really appreciate the true beauty of this country until I left and migrated to a foreign land. I settled down and have been living in the United States for almost a decade, and during that time,  not even once did I return to visit Philippines. Eventually, I realized that stress and anxiety are getting the best of me. So I decided to give it a try- we visited the Philippines for the first time in almost a decade.
"What a beautiful place!" my son exclaims. He is just so amazed by the wonders of nature that he is seeing for the first time in his life. I could not help but cry. Tears rolling down my cheeks as we slowly step out of our plane to begin our 3-weeks-long vacation. I could feel the soothing breeze from the ocean and hear the laughter from people around us. Then I started crying because I missed those;  the laughter, the ocean-breeze, the mountains, the birds chirping,  I miss hearing the sound of ocean waves at night. I miss the life that I used to live; full of laughter and fun. So we made every minute of our vacation very memorable; we spent time laughing almost everyday, and having fun with our relatives. I can only say that Philippines is where my heart is! The happiness we've experienced there, made it difficult for us to leave. Going back to the US though, was not an option because we have jobs that are waiting us, but I came back to work refreshed with lots of happy memories. I cannot wait to go back soon, and maybe by then we will only need a "one-way ticket".
Anyone wanting or maybe just thinking of a vacation,  I suggest Philippines. Here are a few of the many reasons why you should go:
The hospitality of Filipinos is incomparable to the rest of the world.
Filipinos are the most kind and friendly people, extremely welcoming and curious, but also respectful. They always seem happy and smiling, and they love to sing and to dance whenever there is an occasion to celebrate. They love singing karaoke!
 Getting in touch with locals and becoming friends with them is much easier over there than in other countries because they are very friendly and genuine.
Philippines is one of the largest island groups in the world with 7,107 islands.
 Philippines islands and beaches are
Paradise and Amazing
.
 Seriously, you wouldn't find better beaches in the world than there.
White Beach Boracay
is one of them, constantly rated as one of the Top 10 beaches of the world. May not be the best one, but certainly the most famous one.
If you are into white sandy beaches and turquoise crystal-clear waters, you're in the right country. Philippines is made up of 7,107 islands. It's not hard to find your dream beach or a pristine island over there and having it all for yourself…
Here some more images, click to enlarge!
Get lost in one of the biggest shopping malls in the world.
They have giant shopping malls in Manila and Cebu. Shopping in the Philippines can be quite a worthwhile experience. The country is known by many as a great handicraft center. Manila has fantastic shopping opportunities. There are a lot of places to go and it all depends on what you intend to buy, and how much is your budget.
Philippines has one of the most diverse wildlife in the world.
Philippines is home of a diverse range of birds, plants, animals and sea creatures. There are nearly 200 mammal species in the Philippines. The Philippine Tarsier is one of the smallest (and cutest!) species of monkeys in the world. You will find more than 600 species of birds, over 300 species of reptiles and amphibians and at least 400 coral species. From the giant whale shark to the world's smallest fish (Pandaca pygmea), everything you can dream of is united in the beautiful islands of the Philippines.
Philippines has some stunning surroundings, the fantastic Chocolate Hills in Bohol, the Rice Terraces in Banaue, the incredible Archipelago of El Nido. You can climb one of the 37 volcanoes, for example the Mount Pinatubo, or see the world's smallest volcano of Taal. You can discover caves, lakes and waterfalls. If you love nature, you will love the Philippines.
The average yearly temperature is around 26.6°C.
The weather in the Philippines does not reach a point of extreme hot or extreme cold temperatures, so you can easily adapt to the tropical weather. The best time to go is between November and May.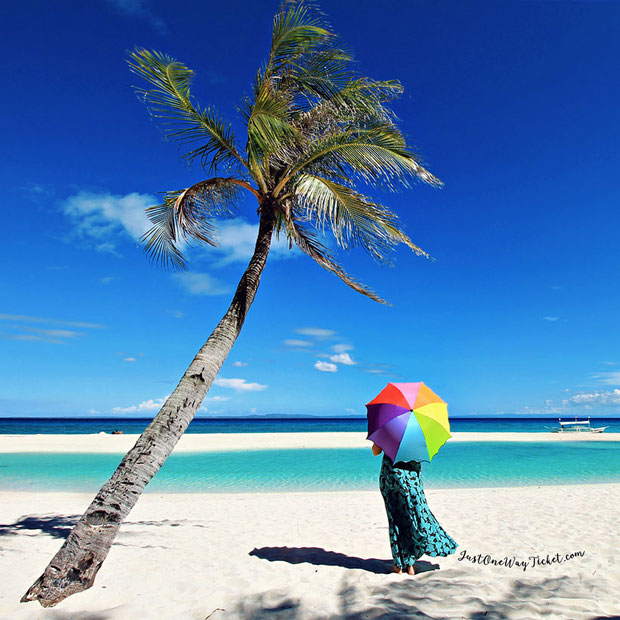 Filipinos love their food and there are a lot of things worth trying! It probably describes it best to say, Filipino food is a mix of Malay, Chinese, Spanish, Japanese and American cuisine. Check this out:
Pamper your body with a good massage.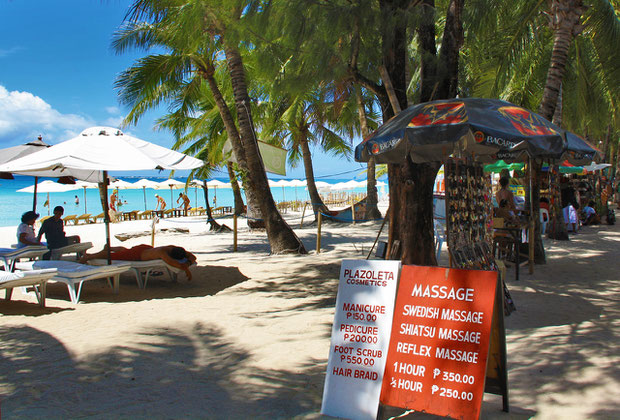 One of the greatest things to do in Philippines is pampering your body with a good massage. Massage places and spas are all over the country, from luxury spas to massage ladies on the beach, you will find them almost everywhere. I can highly recommend trying a Swedish massage, it's a full body massage with oil.
The photo above is taken in Boracay, where you get a massage for 350 Pesos/hour at most of the places (around 8 US Dollar).
Over 90% of the population speaks English.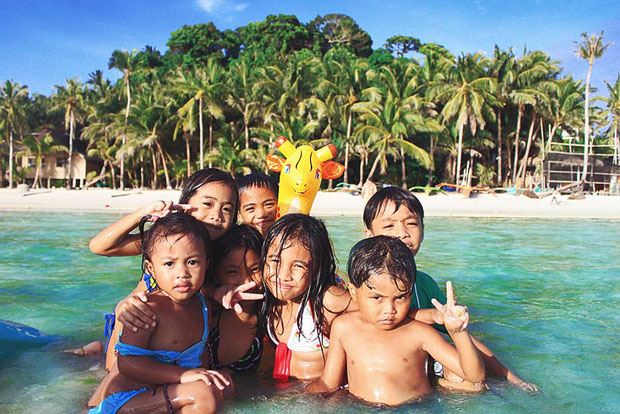 Big advantage compare to other
Asian countries
: Almost everybody speaks English in the Philippines, from a 3 year old kid to the 90 year old granny. English is the language of the government, and the preference for written communication, be it in school or business. There are also plenty of English version newspapers and magazines.
Explore the country like a local.
Often you'll see an extra people hanging outside or onto the back, or the roof.
If you feel like you want to give it a try but you need more info,  feel free to message me on my facebook or on here. Also, you can go to Philippines Travel Guide:   http://www.philippines-travel-guide.com
 If you have been to the
Philippines
, share your experience with us by leaving your comment below.
//pagead2.googlesyndication.com/pagead/js/adsbygoogle.js


(adsbygoogle = window.adsbygoogle || []).push({});